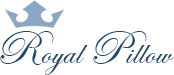 Buy All Your Pillows at wholesale- Direct from our Miami plant
Discounted delivery in the Miami/Miami Beach area for orders over $500
Fort Lauderdale customer give us a call, we may be able to offer you a VERY LOW shipping rate if we can combine your order with our truck route .  
For Naples, Orlando, and hotels in Florida, please also give us a call,  we will work with you to get you the LOWEST shipping rates possible (much lower than the UPS. Nation Wide rates given in our website). Phone (305)634-3415
Hospital pillows
At Royal Pillow, your patient's comfort and safety is our priority. We provide 2 types of hospital bed pillows: reusable and disposable. Both are comfortable and economical. You can use our pillows with confidence in your institution and call us to discuss volume discounts.
                            

REUSABLE Hospital Pillows
Royal Pillow's reusable hospital bed pillow is filled with polyester fiber and the outer cover is made from a chemically treated  nylon material: SPEC-TEX Endurance, a light weight institutional ticking (pillow cover) which is: fluid proof, non-allergenic, odor free, flame retardant, anti-static, crack and stain resistant. This ticking is treated with "Ultra-Fresh", an antimicrobial treatment which is bacteria, mold, mildew and fungus resistant.
Just wiped "clean" using only mild soap and safely use again and again.
 Reusable – 19″ x 25″
                           

DISPOSABLE Hospital Pillows
We manufacture a disposable bed pillow, in the standard size19x25. The cover is made from non-woven evolution fabric and is filled with soft polyester fiber.
Disposable – 18″ x 24″
Royal Pillow • 2110 N.W. 23 Ave. Miami, FL 33142 • Phone: (305) 634-3415 • Fax: (305) 635-7192 • Toll Free: (866) 745-5691